Our Products

In case you aren't available to visit our store, we gladly service via online channels and telephone.
How to order via phone and online channels
1. Inform product code and detail (eg. type,size,quantity) by phone or email then we will call you to inform the payment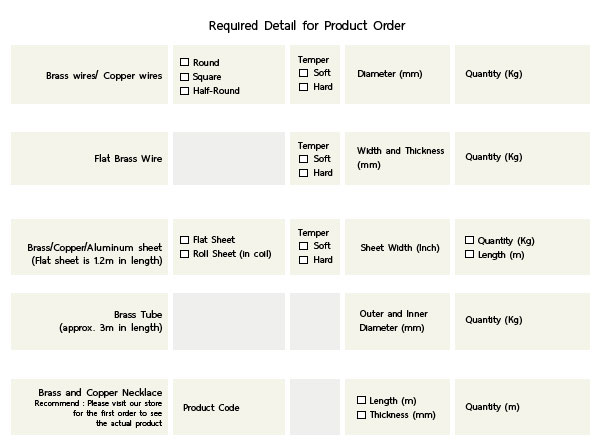 2. After confirmation an order, we will inform you the net total price when the order is ready to be collected at the company or to be delivered at post office/transportation companies. At this step, you can pay in cash or via bank account.

(Remark: Regarding to the product attributes, it's quite hard to make the weight exactly as per request. The weight could be slightly different. However, the price is still based on actual weight.)
3. Receive goods with the original tax invoice/receipt at our company or through your transportation choices.

In case your order is over 100kg., we provide free delivery service to your place (Only in Bangkok and provinces nearby.)

In case of other areas/ province, the product can be delivered to transportation companies or post office as per request. The delivery cost will be charged and based on company's rates.


International Payment
Bangkok Bank Public Company Limited
Account Name: Brastech Company Limited (Branch: Taksin Road)
Swift Code: BKKBTHBK
Account No. (Saving Account): 158-4-09966-5

(Please see SWIFT Transfer instruction)

After confirmation, please transfer to our bank account as below and kindly provide your address details. Then we will post the wires asap after the funds transferred.

*It's fine to pay us in AUD or USD but it will be converted in THB as we don't have  Foreign Currency Deposit Account. The exchange rate is based on Foreign's Exchange Rate

The fee is 0.25% of the total amount (minimum fee of 200Bt and a maximum fee of 500Bt). An intermediary bank (between the sending bank and Bangkok Bank) may also deduct an additional handling fee before sending funds to us.


*Please send us your payment slip by email, FAX, or telephone
Email : brastechcompany@gmail.com
FAX : 02-472-1067
Phone : 02-465-6770, 02-472-1717